I am in fact, slightly evil.  To make it worse, I didn't just make an addictive brown butter shortbread, I added saffron as a mood enhancer.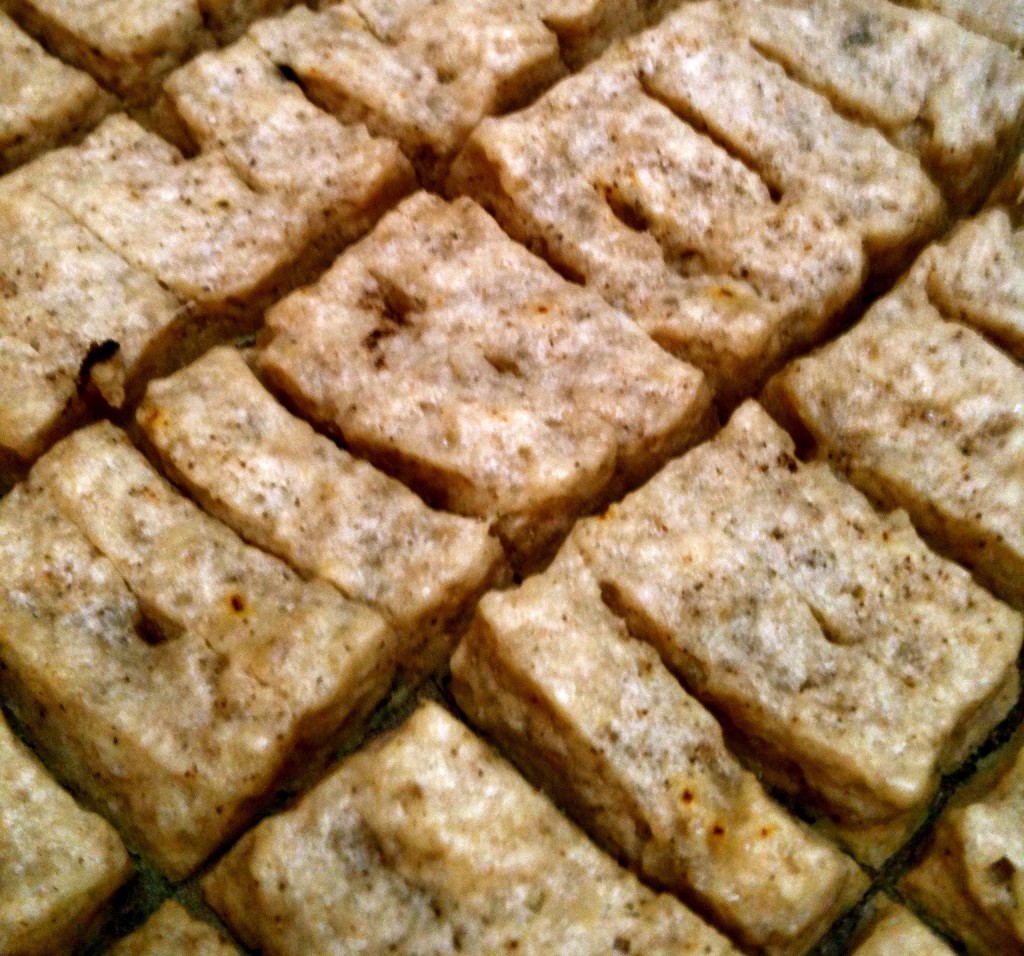 Brown Butter Shortbread With Saffron
Yeild: 64 2″ x o.5″ baton cookies  Time: 40 minutes, plus 8 hours chilling.
Ingredients:
1 stick (4oz) butter
1/8 teaspoon ground saffron
3/4 cup plus 1 tablespoon ap flour
3 tablespoons rice flour (any kind)
1/2 teaspoon salt
1/4 cup dark brown sugar
1/2 teaspoon vanilla extract
3-4 tablespoons cold water
In a small sauce pan melt the butter and add the saffron.  Over medium heat boil the butter, stirring slowly but constantly until the milk solids in the butter toast and fall out of suspension, continue cooking until you've gotten a dark amber color (5-8 minutes total). Immediately remove from heat and pour into a heat safe glass bowl or measuring cup, make sure you scrape all the brown solid bits out of the pan.  Cover with plastic wrap and chill for 8 hours.
Preheat oven to 350F
You can do this in a food processor or with a mixer, for a mixer substitute "beat" for "pulse" it will also take longer with a mixer.
Add the flour, rice flour, salt, and brown sugar to the food processor and pulse until well combined.  Remove the butter from the fridge and cut it into small pieces.  Add to food processor and pulse until everything is combined and looks sandy.  Add the vanilla and 1 tablespoon of water, then pulse again, continue adding water a tablespoon at a time and pulsing until a dough forms.
Take your dough and roll it out on a nonstick cookie sheet into an 8×8 square (or press the dough into an 8×8 pan)  Chill dough for 15 minutes, then with a sharp paring knife cut the dough into four strips 2 inches wide and 8 long.  You may want a ruler for this next part… Now cut those strips into half inch wide slices.  You'll end up with 4 rows of sixteen pieces. 64, 2″x,5″ batons.
Bake immediately for 12-15 minutes, allow to cool on pan, then enjoy.
To prove I'm evil, come back next week for Baked Sundays and see what I do to this batch.