So, earlier in the week I saw these posts in my google reader.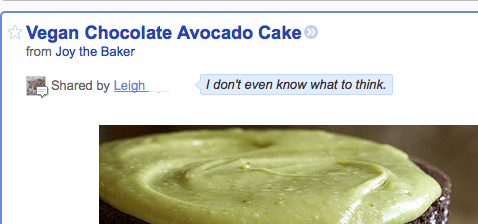 Of course, I had to give it a try.  If for no other reason than to gross out Steve & Leigh.
I'm not going to post photos of the baking process, the 'wet' ingredients look kinda nasty when you're putting this together.
But here's the final product.

The recipe is available over at Joy The Baker and you should give it a try, it's good to flex one's baking muscles and try something new now and then.
A few notes if you're going to try this.
Cake Batter: Even though I had run my avocado through the food processor and thought I had it smooth when I added it to the wet ingredients chunks started floating to the top, I ended up scooping them out and pressing them through a seive.  In my oven one cake was done a few minutes before the other.
Avocado "Buttercream" I ended up using a tablespoon of lemon juice, plus a little that I rubbed on the chopped avocado meat while I finished chopping the 2nd.
Also though the recipe says that it's 'Vegan' it will only be truly vegan if you use  vegan sugar.  Most commercially available sugar is filtered through "bone char" and that makes it very much not-vegan.
Final note, go easy on the frosting, it can overpower the cake.  And while I will most definitely make the cake recipe again, I doubt I'll make the 'Avocado Buttercream' again.