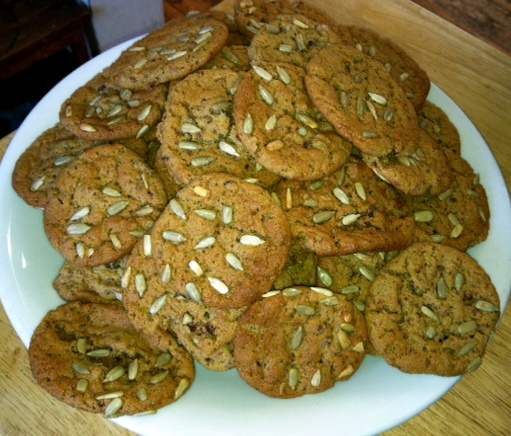 As there are more and more nut allergies (or perceived to be) these days, I decided to play with a classic peanut butter cookie recipe and swap the peanut for sunflower, and then add a little something in the form of ground cranberries.  They add a subtle note to the cookie.  The recipe requires a food processor to grind the cranberries with the flour, if you don't have a food processor, you could use chopped or whole cranberries, they just won't be as subtle.
Sunflower Butter Cookies with Cranberries
Time: 2 hours 40 minutes, (40 Active)         Yield Approx. 8 dozen (96)
1 1/4 cup whole wheat pastry flour (AP is okay)
1 1/4 cup  unbleached pastry flour (AP is okay)
8 ounces dried cranberries
1 teaspoon salt
1 1/2 teaspoons baking powder
1 1/2 teaspoons baking soda
8 ounces (2 sticks) of butter, softened
1 cup sugar (cane, palm, or raw)
1 cup dark brown sugar, packed
1 cup creamy sunflower butter
1 teaspoon vanilla
2 eggs, beaten
1/3 cup sunflower seeds
Method:
Place the flours and cranberries in a food processor and process for about 2 minutes, until the cranberries are in very small pieces and the flour resembles a pink crumble. Add the salt, baking powder  and soda, then pulse a few times to combine, set aside.
Cream butter and sugars until light and fluffy, add the sunflower butter, vanilla, and beaten eggs and mix until fully incorporated.  Add flour mixture and mix until combined.  Cover with plastic film and chill for at least 2 hours.
Preheat oven to 375F  Line half sheet pans with parchment paper or a silpat. Roll pieces of cookie dough into 1 inch balls (or thereabouts) dip into sunflower seeds and place on sheet pan, when you have a pan done use a fork to flatten them, a bit.  Bake for 8-10 minutes until set and light to medium brown.
Slide parchment onto a cookie rack and allow to cool completely to set. (They're awesome while warm, but soft and often fall apart).
Note: If you're baking the cookies in batches keep the dough chilled in-between.