These are damn tasty crackers! Crunchy, flavorful, healthy and awesome!  I'd been wanting to experiment with crackers for the kids at school, but wanted them to be really healthy, I remembered a recipe we made in culinary school for some "Oatmeal Dulse Crackers" I used that as a jumping off point and adapted it to be gluten free, multi-grain, and changed the flavors to be kid friendly.  It worked, the kids love these crackers!
Gluten Free, Seeded, Multigrain Crackers with Dulse

Time: 45 minutes (20 active) Yield: 88 crackers (one, half sheet pan)
Ingredients:
Spice Mix (You can make your own mix, just make sure you end up with a bit more than 2 tablespoons total)
1 tablespoon dried rosebuds (whole)
2 teaspoons lavender buds
2 teaspoons flaked dulse (type of seaweed)
1 teaspoon ground cumin
1 teaspoon sweet paprika (smoked is fine)
2 points of star anise (break two points with seeds off a whole star anise)
Dough
2 cups gluten free rolled oats
1 cup sunflower seeds
1/4 cup buckwheat flour
1/4 cup corn flour
1/4 cup poppy seeds
1/4 cup sesame seeds
1/2 teaspoon salt (fine)
6 tablespoons plus 1 teaspoon extra virgin olive oil
5 tablespoons plus 2 teaspoons cold water
2 tablespoons plus 2 teaspoons honey
1 tablespoon plus 1 teaspoon maple syrup (real maple, grade b)
Kosher salt enough to sprinkle over crackers
Preheat oven to 325F
Place all the ingredients for the spice mix into a grinder and grind everything finely,and set aside.  (The dulse tends to not grind too much don't worry about it.)
Toast the oats in 3 batches: get a large frying pan (NOT non-stick) screaming hot add 1/3 of the oats to the pan and stir continuously until the oats darken slightly and smell of toasty oatmeal, move the oats to a plate to cool and repeat with the rest.  Do this with the sunflower seeds as well.  Allow them to cool completely, meanwhile combine the flours, salt, spice mix, poppy and sesame seeds in a mixing bowl.   When the oats have cooled off, place them in the food processor and grind them finely, add the oats too the mixing bowl, then grind the sunflower seeds in the food processor as well, after they've been ground fine, add them to the mixing bowl with the rest.. Add the olive oil, water, honey and maple syrup to the mixing bowl and mix with until a clumpy dough forms.
Here's what the Oats, Sunflower seeds, and Dough should look like: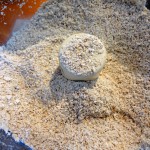 Cut a piece of parchment paper the size of your sheet pan (roughly 13×18) transfer the dough to the parchment paper and press it together into a solid disk, then begin rolling it out, you want it to be about an 1/8 to 3/16th of a inch thick, trim the edges and use and scrap to fill in any cracks you get. Carefully move the dough and parchment into the sheet pan, and fix any cracks. This dough doesn't have any gluten holding it together so it can be a bit crumbly, that's fine, it will bake solidly and firmly.  Using a ruler to guide you score the dough into squares. I just used the width of the ruler to cut evenly sized strips without needing to measure exactly.  Sprinkle with kosher salt, and gently press the salt into the dough.
Here's what you want the dough to to look like from rolled out, fit to pan, scored, and baked: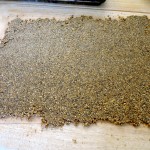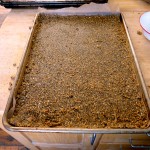 Bake at 325F for 20-25 minutes, until crackers are golden brown, the edges will bake a bit faster and be darker than the middle that's okay, just be careful not to burn them.  When done allow to cool in pan for a couple of minutes then gently move the crackers on the parchment to a cooling rack.  The crackers will be a little soft until they cool completely and set.
Enjoy!