People often ask where I shop, when I lived in the NYC metro area my answer when it came to spices was Penzeys at Grand Central Market.  Since moving to Berkeley I've had to get my Penzeys fix via their website. I got a shipment from them on Friday, a small order really.  Penzeys doesn't overdo the packing materials, which I like, but they do put care into their shipments. In my order I had 1 ounce of whole star anise, it had a little extra wrapping around it.  This is what came.
Not a single broken piece, not even a bit of anise dust in the bag.  Perfect.  They are so gorgeous I couldn't stop fixating on them, I had to scour my kitchen hunting for a jar worthy of storing them.  Absolutely GORGEOUS!

I also couldn't stop smelling them, and insisting that everyone who walked by my kitchen also smell and see how awesome they are.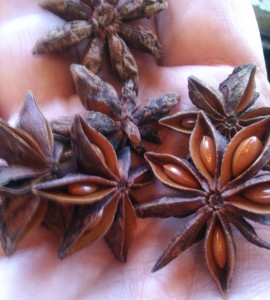 My Package said it was packed by Teresa, she also wrote "Thank You" on the invoice.  No Teresa, Thank You!  It's my pleasure to do business with Penzeys.
Full Disclosure: I am not compensated in any way for this post, I have no relationship with Penzeys outside of being their customer; nor do I know anyone employed by them personally.
One more photo just for the sake of being obsessed!